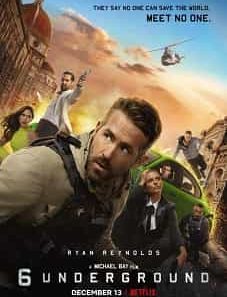 6 Underground 2019
Directors: Michael Bay
Writers: Paul Wernick, Rhett Reese
Cast: Ryan Reynolds, Mélanie Laurent, Manuel Garcia-Rulfo
Genre: Film 2020 | Action, Comedy, Thriller
Rating: 6.1/10
Descriptions:What is the best advantage of being dead? It's not about escaping your boss, your ex, or even erasing your criminal record. The best thing about death … is freedom. The freedom to fight against injustice and evil that lurks in our world, without anything or anyone stopping you.Six individuals from all over the world, all the best in their field, were chosen not only for their skills, but also for their unique desire to erase their past in order to change the future. The gang is brought together by an enigmatic leader, whose sole objective is to ensure that everyone will be forgotten but that their actions, for sure, will survive them.
---