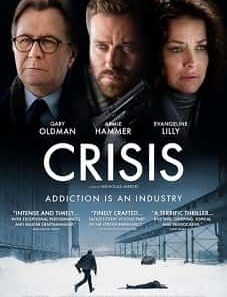 Crisis 2021
Director:
Nicholas Jarecki
Writers:
Nicholas Jarecki
Cast:
Gary Oldman, Armie Hammer, Evangeline Lilly
Genre:
Film 2021 | Drama, Thriller
Rating:
6.2/10
Descriptions:
Crisis is a crime, thriller movie written and directed by Nicholas Jarecki. In the movie, the actors who played their roles are Gary Oldman as Dr. Tyrone Brower, Armie Hammer as Jake Kelly, Evangeline Lilly as Claire Reimann, Greg Kinnear as Geoff Talbot. The movie is based on the world of drugs and here we can see the story of three persons who are connected with the drug world. One of them is A drug dealer who smuggles between Canada and the USA. An architect who figure out his son's involvement in drug dealing and also a university professor who has been faced with an unexpected discovery. Users can stream this latest crime thriller in high quality pring on
stream subtitles movies
without ads.
---