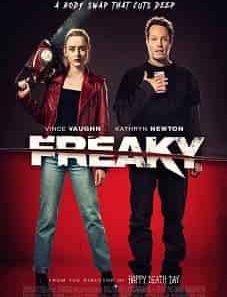 Freaky 2020
Directors:
Christopher Landon
Writers:
Michael Kennedy, Christopher Landon
Cast:
Vince Vaughn, Kathryn Newton, Celeste O'Connor
Genre:
Film 2020 | Comedy, Horror, Thriller
Rating:
6.5/10
Descriptions:
Freaky tells the story of Millie Kessler, a 17-year-old girl. Her life was suddenly changed when the infamous serial killer Blissfield Butcher (Vince Vaughn) chooses her as his next target. But instead of killing her, the psychopath and the adolescent just switch bodies. Now Millie is stuck in the body of the wanted killer, while the killer uses her appearance to plan the next murder. The teenager only has 24 hours to reverse the body swap – otherwise, she will have to keep the butcher's appearance forever. To know how she makes her out from this deadly trap watch this movie on
subsmovies horror
platform.
---