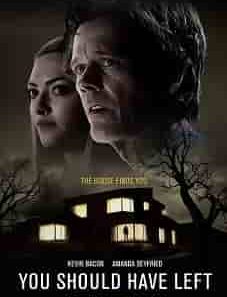 You Should Have Left 2020
Directors: David Koepp
Writers: David Koepp, Daniel Kehlmann
Cast: Kevin Bacon, Amanda Seyfried, Avery Tiiu Essex
Genre: Film 2020 | Horror, Mystery
Rating: 5.3/10
Descriptions: Theo Conroy is a middle-aged man who is a well-settled in his life. He is married to a woman who is much younger than him. His wife is an actress (Susanna). They have a 6-year-old daughter. Due to his wife's profession and age, he always thinks that his wife is cheating on him. In an effort to restore their relationship, Theo and Susanna decide to go on a vacation. But there is something fishie in that home. Soon Theo's grasp on truth starts to get to the bottom of and he suspects that a sinister force in the house who knows more than he or Susanna has known about each other.
---